iCrowdNewswire - Apr 16, 2015
OpedSpace: Media for an Informed Generation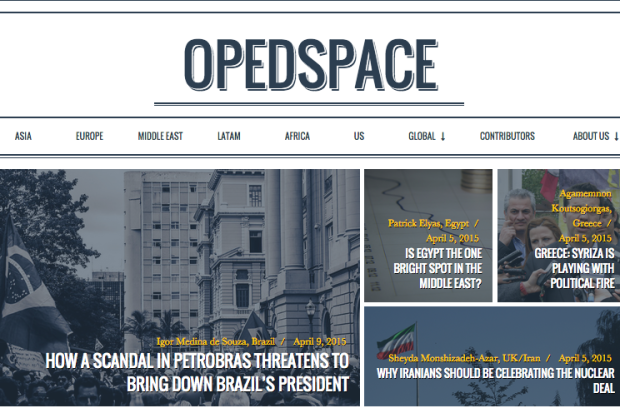 Connecting to the voices of tomorrow
Short Summary
"10 Ways The Media Is Letting You Down… Number 7 Will Blow Your Mind!"
Don't you hate yourself when you click on those headlines? Soundbites and listicles are taking over media, dumbing down complex issues like inequality, foreign policy, climate change and immigration. We can't afford to be wrong on these issues andwe need your help to change that. 
We are building the premier media company for our generation. We have spent the last three months cultivating an incredible community of the most talented young people across the world to share their stories, insight and perspectives with readers in over 130 countries. We have seen our web traffic grow exponentially over the last three months and are excited for the future, but we need your help!
Our community are young politicians, activists, entrepreneurs, economists and people who want to be heard and share their voice. We are giving them a platform to do so on the issues that matter most to them.
This is our passion. We met at Harvard Business School and realized that we spent all our time talking about these topics. Fred worked for the UK government and BCG and used to be the Managing Editor of Oxford University's Newspaper. Tewfik managed the MIT International Review when he was an undergrad there and worked for McKinsey, Facebook and Roominate. Alex is our media guru having helped launch HuffPost Live and worked at ABC News 'Nightline'.
What We Need & What You Get
We need $15k to really take this to the next level. We currently have an MVP up using WordPress that you can find here: http://opedspace.com/
From in-depth analysis of the war in Yemen, to an exclusive documentary with the families of Egyptian Christians beheaded by ISIS and a series of posts from therebel front lines in Eastern Ukraine.
We need the money to do an overhaul of the website and to improve our video capabilities. We currently produce only written content and want to shift into more rich media stuff starting with a Video series featuring one of our contributors called "Time Out With Tara." 
From there we want to run concerted campaigns about the issues that matter to our generation (e.g. political dysfunction, diminished job opportunities and climate change). Our current site can't handle all that so we need to give it an upgrade.
Aside from that general feeling of smug satisfaction that one gets after doing a good thing we are prepared to offer you more than that!
·  $10 – gets you onto our weekly email list that highlights our best content
·  $75 – gets you a trendy OpedSpace t-shirt (this will show your friends that you are an informed consumer of quality news)
·  $250 – gets you a ticket to our OpedSpace Contributor Conference where you can interact with our community that is producing all the great stories you will be reading/watching
The Impact
We hope to change the way media is created and consumed by our generation. Despite popular belief this isn't a narcissistic generation. Sure we like our occasional selfie but we are also deeply consumed by issues that go beyond our immediate surroundings. That can be seen by the way the world intently followed the Arab Spring in 2011 and how thousands of Americans participated in Tea Party rallies and the #blacklivesmatter movement. Young people of all political persuasions are taking action.
Whether it is the second year analyst on Wall Street that still finds time to volunteer at an education NGO, or the Tunisian Civil Rights activist who has devoted her entire life to improving job opportunities to her compatriots you see young people all around the world actively contributing to their communities. The sad part is that their stories are largely ignored and unheard… We want to change that.
Risks & Challenges
Media is tough and this won't be easy. Aside from the usual "how do you monetize?" questions getting good content from around the world is always a challenge. We are also committing ourselves to being credible and accurate, a last stop destination for international insight for our generation. Making sure we do that will be a challenge that we will rely on our contributor base to overcome. We've invested upfront quite a bit of time and energy to making sure our contributors are the best and brightest people from their country. We work with them to ensure they produce great content and double check their facts and figures on the stories we publish.
Other Ways You Can Help
If you can't contribute (and even if you can) you can still help us in other ways.
Like us on Facebook. Follow us on Twitter. Follow us on Instagram. Tell your friends about us and read the stuff we post! 
Find This Campaign On