iCrowdNewswire - Feb 12, 1994
Venezuela Mixed in Beach Worlds 2017
A Venezuelan Mixed Squad is preparing to compete at the next Beach World Championships!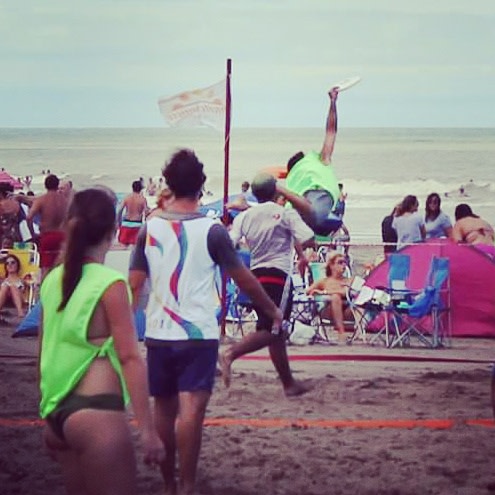 Venezuela has been trying to send ultimate players to world championships events for a few years now. Always finding obstacles to overcome due to the present political and socioeconomic situation that our country faces. This time around our country is on the face of sending a competitive beach squad with mostly players that live abroad and face fewer obstacles to make the journey to the beaches of Royan next summer. Unfortunately, we still have a few players that can use your help.
The Campaign
Venezuela has always been an ultimate playing country. The sport has interested thousand of young and old players of both genders, and most of them have dove head first into the game. Our heart is all about ultimate. Throughout our history, Venezuelan teams have not failed to deliver. Venezuelan teams have reached finals at the Panamerican Ultimate Championships two times in a row. The under23 squad has also made a great role at Worlds U23 in Canada, after struggling to come up with the necessary requirements to obtain visas and money exchanged. They had to struggle with all the politics, and all the economic obstacles, and then went on to beat Japan in pool play. I think that says a lot about the quality of players we have.
Last few years were enveloped with failure. The sociopolitical crisis in our country have made it almost impossible for athletes of second hand sports to travel and compete at the highest level. A lot of attempts were made to reach world championships, and they all met the same fate, they all had to drop out of the competition.
This time a team of players have been put together with players already living abroad, and some players that will still make the trip from our homeland. All of these players, although living abroad, still need a bit of support to make the trips, specially the ones still living in South America. This time we could really use your help and support to meet the goal of 15 venezuelan players standing on a beautiful french beach and raising a hand to call for a pull and start the first game of the squad in years.
All these players want is to play their hearts out and share Venezuelan ultimate culture with the rest of the world. We promise to bring the drums and congas, and give you a bit of Caribbean rhythm that our country is famous for.
The Team
Vannesa Tejero, who has 15 years of competitive ultimate under her belt. She recently plays in Rotterdam, where she can be seen throwing full field hucks. She also was one of the main female handlers on the venezuelan team that competed in Hawaii 2002.
Jose Cruces was a big part of the venezuelan squad that played in Italy 2011. Since then, he states that ultimate has changed his life and plays ultimate regularly in Germany. He is a fast and dangerous cutter who loves to streak deep and leave defenders looking at his number while the desperately try to catch up.
Orianna Abreu, she has ran for plastic for 10 years now. After moving to Colombia, she started playing with Revolution, one of the best colombian women squads. She recently won Nationals with the team, and took down the MVP award while doing it.
Gus Estrano, one of the seasoned veterans that make up the core of the squad. A real team player, who is always looking for the easy options to float the disc into the endzone. Gus has been playing in the United States for the last years. He has played Nationals there 3 times in a row, and also participated in two world championships wearing the Venezuelan colors.
Fred Burke started playing 12 years ago. Since then, he has been all over the world playing Ultimate. Recently, he has lived in India, where his lefty handler skills grabbed the attention of the selection committee of the Open Master Squad for The World Championships of Ultimate and Guts in London.
Aulio Vasquez has been playing in Chile for three years. Since then he has helped his team to two national championships. He has also won the DV2600 colombian tournament, a very known competitive tournament in Bogota, with the Wisconsin Arepas.
Moises Diaz is an ultimate encyclopedia. He loves to learn the strategic side of ultimate, and has helped spread this knowledge in Chile for the last years. He is known for being one the pioneers of Ultimate in Chile and has founded several teams in both his home country and his new one.
Darly Kittle has been playing in the United States since 2009. She started playing Mixed with K.O.D. and Glazed. She is a force to reckon with while she has the disc and prides herself in being a defensive handler. 16 years in the game give her the experience necessary to face any competition.
David Picon has been playing mixed spanish ultimate for the last five years. During that time he has won Mixed Nationals with Bravas in 2015, and then taken uncountable 2nd places with the Open Squad. He has also been regularly involved in video coverage for the sport with Skyd Magazine and Get Horizontal.
Marcos Batista has been playing in Argentina for the last years. Where his team has been unbeatable on any surface or condition. Marcos has grasped the Defensive MVP award several years in a row at the highest level of competition in Argentinian ultimate.
Mariana Otero is the soul of any team. She has played the most international major events in the history of any venezuelan. She has played all WCBU events since Portugal 2004 and is ready to add one more to her belt. Living in France, she has also helped YAKA to take down 7 championships titles during her career with the team.
Jose Caceres has been playing and developing ultimate in Greece for the last years. He is an avid rules scholar, and will be the backbone of the team in the spirit department. He is now playing with UCFA and has won several spirit of the game awards throughout his career.
The Funding
We need around ten thousand euros to help pay for the fees and flights of our less fortunate team members.
A world championship can be a very expensive event, and a country that is struggling with economics like Venezuela won´t spend a cent in helping a national team reach these goals. That is why we seek help from the outside community.
Any and all funds made during the campaign will only be directed to help the players that cannot make the journey without assistance. If by any chance, these players were to drop out, then the funds will be redirected into helping promote south american ultimate youth.
If you cannot help us with some gold bricks, then perhaps you can throw some shares our way! Help the world know that Venezuela is seeking help to play competitive ultimate! We will thank you until the end of time!